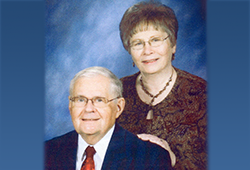 After many years of service to Concordia University Chicago, Henry '56 and Laura '56 Latzke chose to support CUC through a gift in their estate plan. "We feel if God's kingdom is going to grow, we need church workers who have a good foundation," says Laura. "Our estate gift will be given to our endowment fund at CUC - The Latzke Church Worker Scholarship Endowment - which provides scholarship to students preparing to be church workers."
Both Henry and Laura are Class of 1956 graduates. During their student days, they met each other and made lifelong friends (Henry is still in contact with several of his roommates, and Laura is in touch with all nine of hers). They also embarked on long and rewarding careers as Lutheran educators. After a brief stint as a secretary at Alabama Lutheran Academy (now Concordia Selma) from 1956 to 1958, Laura served as a teacher and then principal at St. Paul Lutheran School in Melrose Park from 1966 to 1999. Henry was a professor at Alabama Lutheran Academy from 1956 to 1958, then a librarian at Los Angeles Luther High from 1958 to 1960 before receiving a call to his alma mater.
The Latzke's have many wonderful memories of their years at Concordia-Chicago. Henry is Professor Emeritus of Education and Director of Library Services, a role he held from 1960 to 2001. As a professor, Henry oversaw the remodeling of the library, and Laura participated in the Concordia Wives Committee, providing activities for students such as teas and fireside dinners. Two of their children and one of their grandchildren also attended Concordia-Chicago.
"Because the university has been such a huge part of our life it was rather clear that Concorida-Chicago receive support for future scholarships for students," Laura says. "The Christian atmosphere predominates and students are viewed at as individuals and are encouraged to excel."
The Latzke's advice for other philanthropists: "Fund your passion!"